It can be exciting to take the first step toward getting braces and making your first appointment with an orthodontist. Most people have no idea what to expect from their first visit, and new experiences can be a little intimidating. What happens at your first orthodontist appointment? Are braces put on during your first appointment? Is it a free braces consultation, or will you have to pay? How long does an orthodontics consultation take? 
We know you probably have a zillion questions about your first consultation for braces. No problem! At Ohana Orthodontics, we have a zillion answers ready to give you! Let's explore what to expect at your first orthodontics appointment.
What Is a Braces Consultation?
What happens at a braces consultation? How long does an orthodontic consultation take? Is the free orthodontic consultation really free or are there hidden fees?  We'll never suggest unnecessary treatment that won't give you the results you want and need. We'll let you know if you're a great candidate for Invisalign clear aligners, or if braces will be better for you. When we say your first visit is a complimentary consultation, we mean it! You won't owe us a dime for your first visit!
What to Expect at Your First Orthodontist Appointment
You can expect your visit to take about an hour and a half to two hours. It will be one of — if not the — longest visits you will have with us. Your regular checkups will be much shorter. Here is how your initial visit will go!
Introductions
At your first visit, you will get to meet the Ohana Orthodontics team! We will talk to you about everything to expect at this appointment and what to expect from orthodontic treatment. If you have any questions before starting, we can answer any questions or concerns!
New Patient Paperwork
As a potential orthodontic patient, our team wants to learn ALL about you, your dental history, and your teeth-related troubles. You can fill out the paperwork at the appointment or save time by filling out your new patient paperwork beforehand! This paperwork includes information about your dental insurance so our patient treatment coordinator can discuss the financial side of treatment at the end of your orthodontic appointment.
Exam & Imaging
We use advanced digital technology, x-rays, and a dental evaluation to plan what you and your smile needs. If you are interested in Invisalign, we will use the ITero digital scanning system to construct a 3D image of your teeth to create a personalized treatment plan and preview your new smile.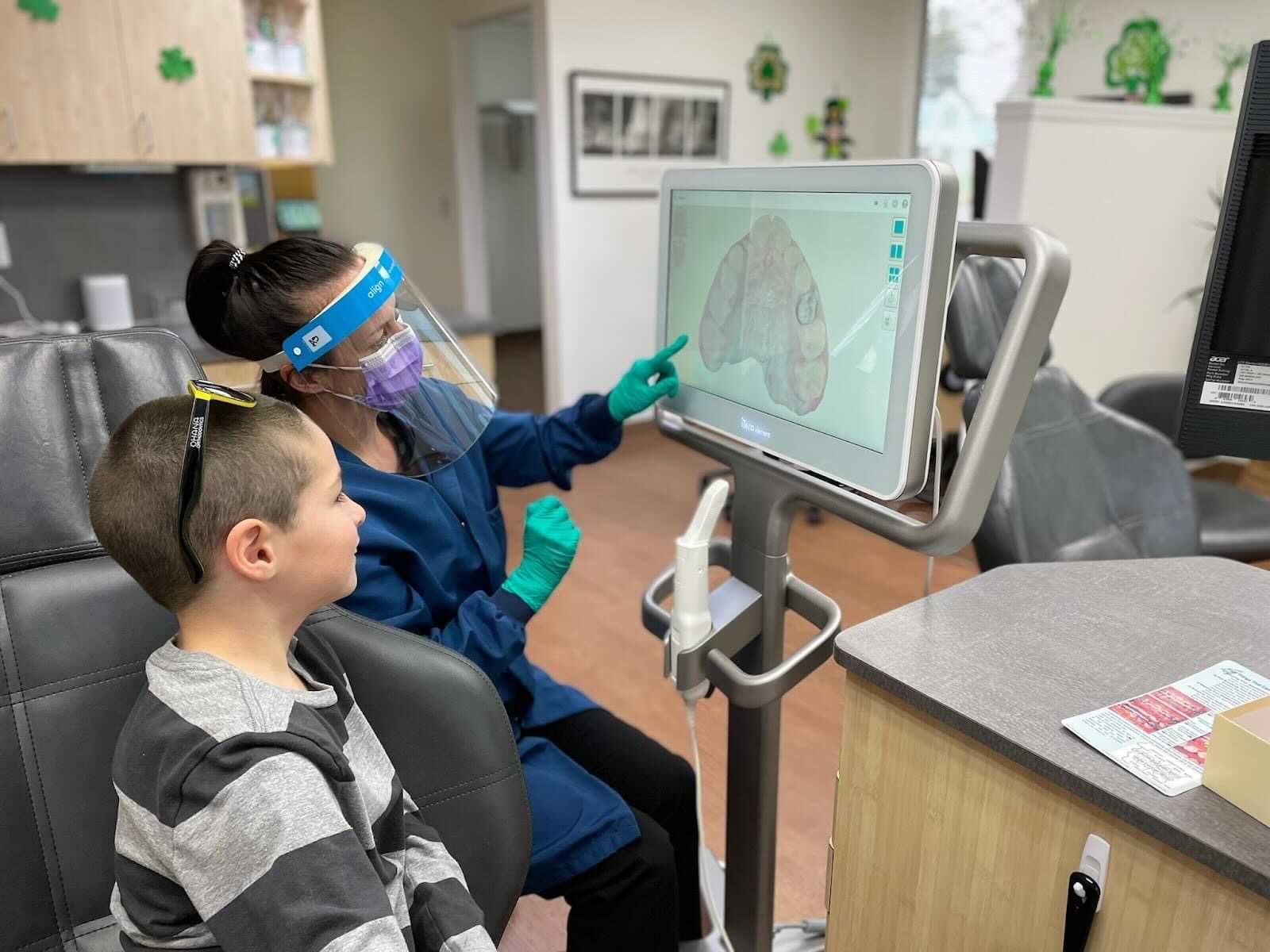 Treatment Plan
Dr. Rachel will talk with you about what treatment options she recommends based on the scans, evaluation, and goals. We have all of the following orthodontic treatment options: Invisalign, Invisalign Teen, ceramic braces, and metal braces. Dr. Rachel will discuss the pros and cons of each option and discuss what your personalized treatment plan looks like. If you have any questions, we will talk through them and make sure you feel comfortable taking the next step!
Orthodontic Financing 
We will discuss financing and orthodontic payment plans at the end of the appointment. Depending on your orthodontic evaluation and the treatment plan, we will discuss what options are available to you. Affordable orthodontics is important to us, and we will work with you to find a financing plan that works for you and your family! 
Schedule Your Next Appointment
After your initial consultation, we can schedule your second appointment, where we will usually begin your orthodontic treatment. Depending on your specific unique case, this is where you will start Phase I or skip directly to Phase II of treatment. 
Do You Get Braces on Your First Appointment?
We spend your first appointment getting to know you and welcoming you into the Ohana Orthodontics family. We also take time to plan your treatment carefully and discuss your goals. Are you looking for a more aesthetically pleasing smile? Or are you looking to relieve growing jaw pain? 
Whatever the case, the first appointment is more of a planning session. You won't be getting your braces during your first visit. It's the second visit when the magic begins!
Getting Invisalign
The process is a bit different for those getting Invisalign clear aligners. We'll start by getting a digital impression of your teeth so we can create your Invisalign trays, which will straighten your teeth over time. We'll fit you for your first trays and make any adjustments so they are as comfortable as possible. We'll teach you how to put in and take out your trays, how to care for them, and when to replace them with your next set of trays. 
Some teeth may need a bit more movement, so we may glue small, tooth-colored attachments to your teeth so the Invisalign can grip and move the teeth better. These tiny buttons can also hold rubber bands during your treatment that will align your bite properly. 
What to Expect After Your Second Orthodontic Appointment
Once your braces or Invisalign clear aligners are in place, your teeth and gums may be a bit sore for a few days while your mouth gets used to your new appliances. We recommend you stick to soft foods for the first couple of days. Enjoy some mashed potatoes, macaroni and cheese, or maybe your favorite smoothie. You can swish warm salt water in your mouth to help with the tenderness. If necessary, over-the-counter painkillers can be used.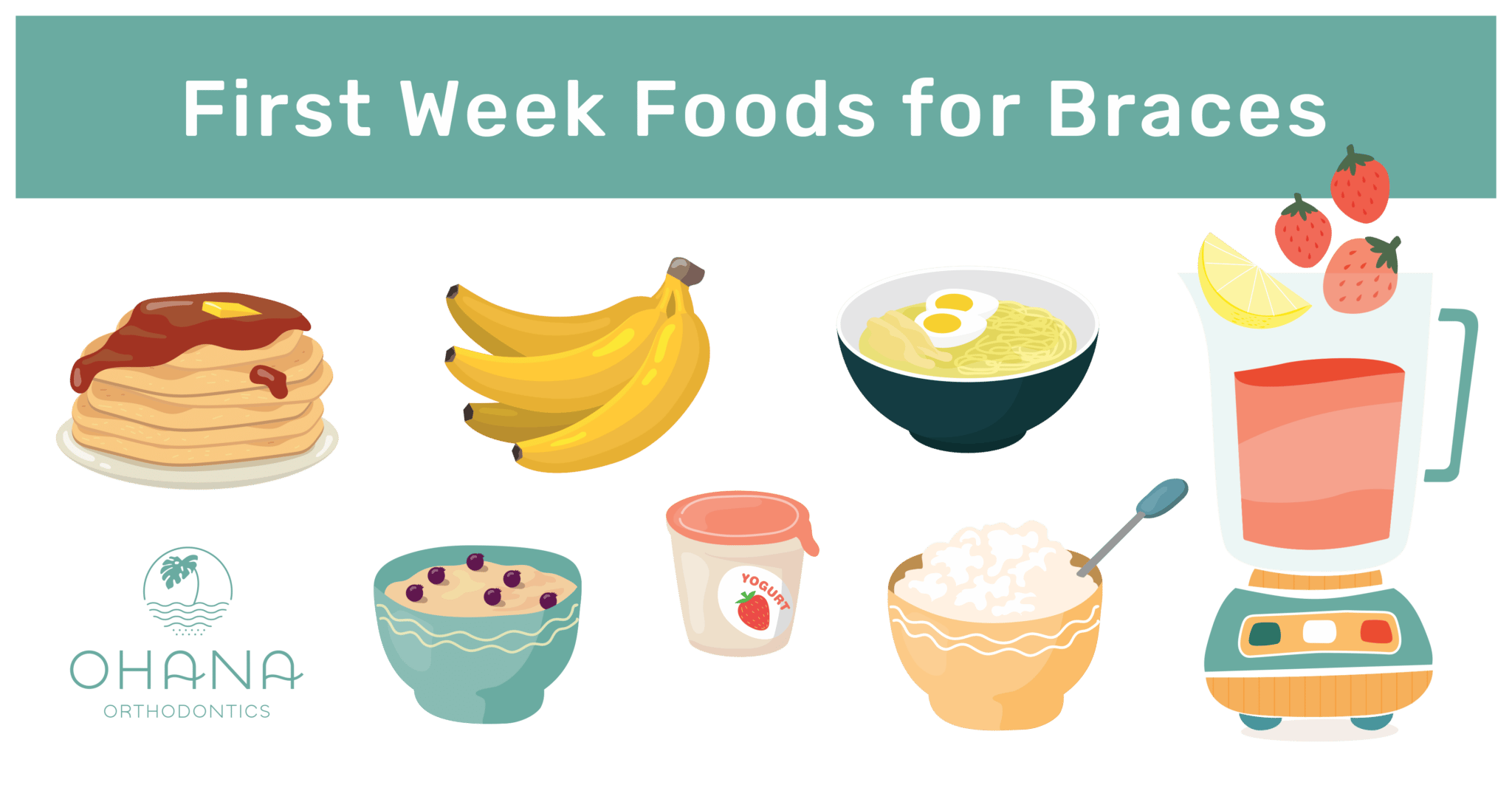 The soreness should go away in about a week. We'll see you back two weeks after your first visit to see how you're doing. If you're in Invisalign, we'll give you the next set of clear aligners and make sure you know how to wear and care for them. 
Treatment times vary from patient to patient. Braces are generally worn for 12-24 months and Invisalign for 9-15 months, but each case is different. We'll give you an estimated time for your customized treatment during your initial orthodontist consultation.