Invisalign has come a long way since it debuted in 1998. It was meant to help only mild orthodontic cases when it first debuted. Today, Invisalign is used on more complex cases, transforming bad bites and crooked teeth into beautiful, straight smiles. Ohana Orthodontics is a proud provider of Invisalign treatment, and we've seen first-hand how Invisalign has transformed our patients' lives. 
Is Invisalign right for you? Is Invisalign Teen right for your child? If you're in the Canby, OR, area, Ohana Orthodontics can evaluate your case and determine whether clear aligners are the best fit for you or if braces are the better way to go. If you're unsure of the power of Invisalign, look at what it has done for some of our patients. We have some before and after Invisalign photos for you. You'll be amazed at the transformation and the short time it took to get there! 
How Does Invisalign Work?
Invisalign clear aligners work similarly to traditional braces but with a nearly invisible look on your teeth. They apply gentle pressure to move your teeth into their proper positions. The clear acrylic Invisalign trays are custom-made for your teeth, and our high-tech software creates a treatment plan using a series of Invisalign trays that gradually create your new smile. You wear each set of Invisalign trays for 1-2 weeks, then switch to the next set. Each set of trays moves certain teeth in a coordinated way for maximum efficiency. That means your teeth move faster, so your treatment is over sooner than traditional braces. 
The key to Invisalign treatment is wearing them for at least 22 hours daily. Unlike braces, Invisalign can be removed, so you can take them out to eat, brush, and floss your teeth. Just brush your teeth and rinse your Invisalign before putting them back into your mouth!
How Well Does Invisalign Work? 
Invisalign does a fantastic job moving teeth. Each tray applies gentle pressure that causes the teeth to move. Often, patients complete treatment in 9-15 months, less time than they would with traditional braces. How well do they work? Let's look at some of our patients who have had successful treatment with Invisalign.
Patient 1: Repairing an Overbite With Invisalign
Patient 1 came to us with an overbite and crowded lower teeth. Their upper teeth were also retroclined, meaning they were tilted toward the roof of their mouth rather than sitting straight. 
We fitted Patient 1 with Invisalign clear aligners. Their treatment took only eight months, and their teeth were straight. Invisalign removed the retroclining and straightened the bottom teeth. Her straight teeth made biting and chewing easier and improved her oral health.
Patient 2: Repairing a Crossbite With Invisalign
Patient 2 came to us with a problem: She kept biting her lip when chewing because she had a crossbite that left her teeth misaligned. You can imagine how painful and annoying that had become for her. She came to us and opted for treatment with Invisalign, which would be nearly invisible on her teeth. Like many adults, she preferred the look of Invisalign to braces. 
It's been six months in her treatment, which is nearing its end, but her progress has been remarkable. Her teeth have moved into their proper positions, meaning she has less chance of biting her lip. We can't wait to see the final result!
Patient 3: Repairing Spacing and Crowding With Invisalign
Patient 3 came to us with a space between her upper teeth that she wanted to be closed. She also had a crowding problem with her lower teeth. We fitted her with Invisalign clear aligners, and her teeth were straight within four months. 
Our patient is now in Vivera retainers from Invisalign. These retainers are clear, just like Invisalign clear aligners, and they're designed to keep her straightened teeth in place for years to come. Our patient tells us she loves her Vivera retainers because she feels the material is durable, and she was given four sets, which will keep her teeth straight for a long time.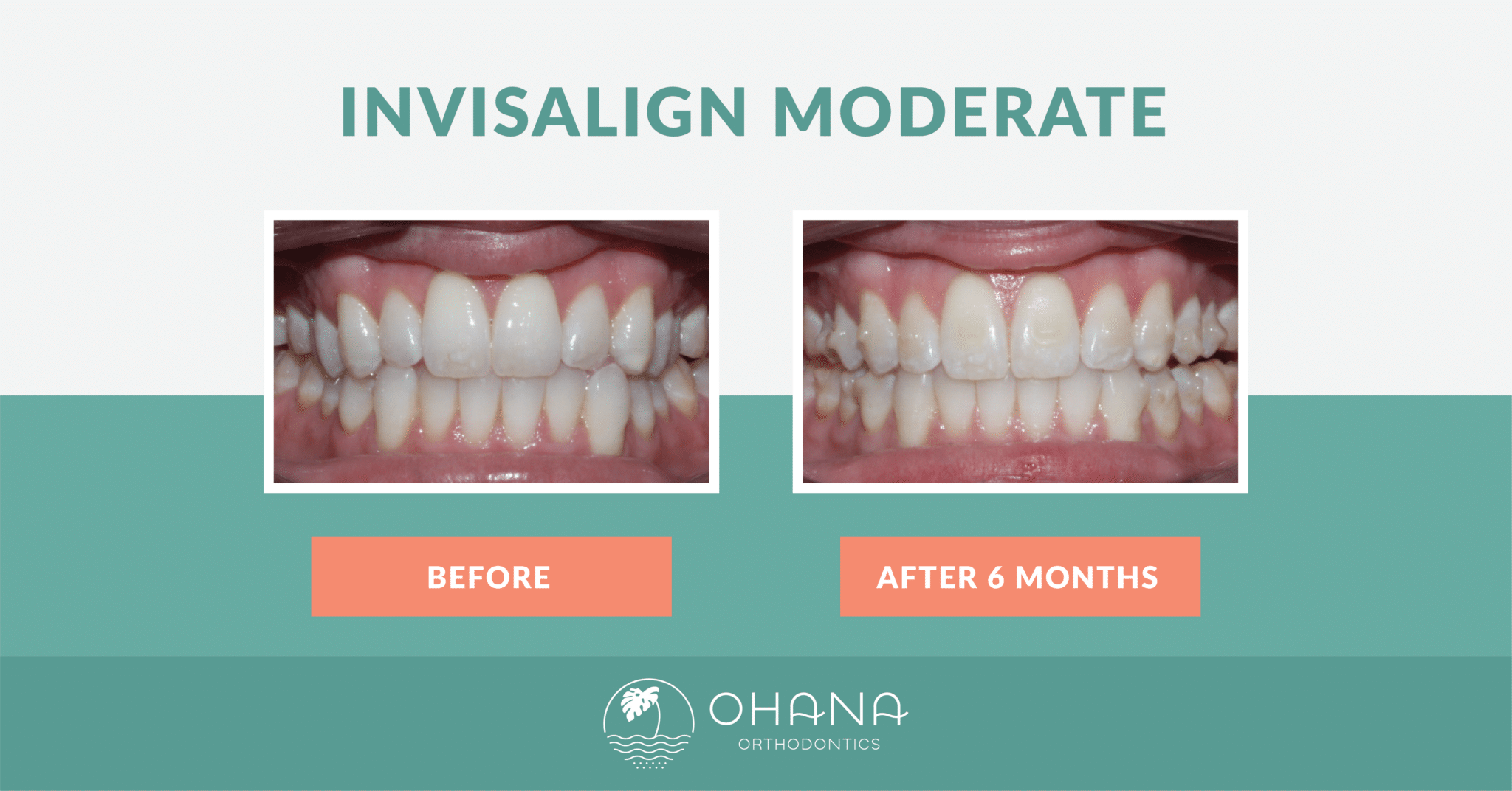 Invisalign for Minor and Severe Cases in Canby, OR
Today's Invisalign still does a fantastic job for minor cases but also works with more severe cases. Some cases are best suited for braces treatment, but we can help you determine that. Invisalign has treated more than 14 million patients, and they may be able to treat you as well! 
How do you know if Invisalign is right for you? If you're in the Canby, OR, area, schedule an appointment with us for a no-obligation evaluation of your dental issues. We will tour our office during your first visit and introduce you to Dr. Rachel. We'll then take digital photos and x-rays of your entire mouth to see what needs to be fixed. From there, we cover everything you need to make an informed decision about your oral health. 
We'll discuss your treatment options, including whether braces or Invisalign are best for you. We'll also discuss your possible treatment times and financial options, including whether your insurance will cover your treatment and what payment plans you can use. 
You can rest assured that we will offer only the best treatment options. We'll never suggest treatment you don't need, nor will we pressure you into accepting one treatment over another. That means if you don't want Invisalign, you don't have to have it! But if Invisalign is your preferred method of treatment and it will work for your dental issues, we will do all we can to help get you into Invisalign clear aligners!