Orthodontic treatment is a big decision. Can braces help your smile? Can you only get braces if you're young? Will braces help multiple dental issues at once? You'll be amazed at what braces can do for your smile. 
How well do they work? We have seen some amazing results in our patients over the years, and we want to share a few of their stories with you. 
Why Do I Need Braces?
Why would you need braces? Perhaps you are having trouble biting and chewing. Perhaps you're having jaw pain or headaches. Maybe you have trouble breathing or don't like your teeth look. 
Crooked teeth or a bad bite can cause more issues than just chewing your food or cleaning your teeth properly. Orthodontic treatment is important to your oral and overall health. 
Braces can correct nearly all kinds of orthodontic issues. 
Overbite

Deep bite

Crossbite

Underbite

Gap teeth

Crooked teeth

Impacted teeth
Braces can also correct several of these issues at once. They do this by applying gentle pressure to each tooth, moving it slowly and precisely. Orthodontic treatment is a detailed process that requires specific planning. That's why seeing your orthodontist for treatment is so important. 
Before and After Braces
How can braces help you? You may be surprised at the different ways braces can help. Let's look at how treatment helped a few of our Canby, OR, braces patients at Ohana Orthodontics. 
Patient No. 1: Crowding Relief by Tooth Extraction
Patient 1 came to us with crowded teeth due to a narrow arch. In other words, they didn't have enough room on the upper jaw for the teeth to sit properly side by side. 
We needed to make room for the teeth to move. We needed to extract the patient's first premolars on the top and bottom to do so. We don't often extract teeth for braces, but the patient didn't have space to straighten the teeth properly in this case. 
After the four teeth were removed, we fitted the patient with braces. After 25 months of treatment, our patient walked away with straight teeth and a beautiful smile! 
Patient No. 2: Tooth Crowding and a Narrow Arch
This patient also came to us with tooth crowding and a narrow arch. In this case, the patient had just enough room to move the teeth into their proper positions. We treated the patient with braces for 19 months. In the end, we were able to straighten their teeth without extractions.
Patient No. 3: Braces Before and After Overbite 
Patient 3 came to us, disliking their smile because of an overbite. Many patients with overbites don't realize that overbites are more than aesthetic. An overbite can cause issues with biting, chewing, and even breathing. Overbites are a common orthodontic problem, and braces are a common solution. 
In the case of our patient, braces were the perfect solution. We fitted the patient and continued treatment for 21 months. The patient's overbite was corrected, and the patient left with a new level of self-confidence.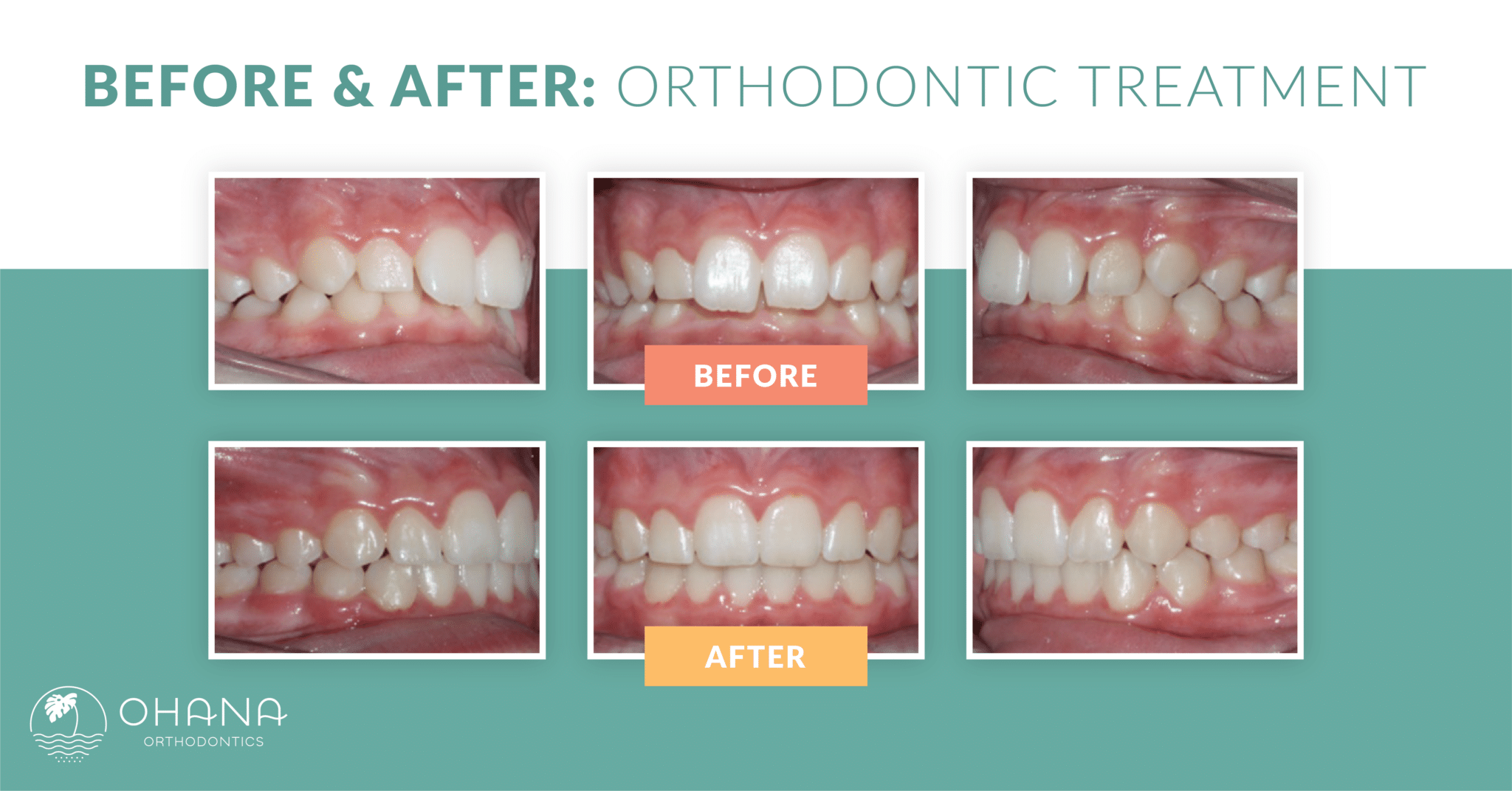 Patient No. 4: Mouth Trauma and Flared Teeth
Patient 4 was a more unusual case. We often get patients with trauma due to injuries or accidents, but in this case, the patient had an orthodontic issue that formed several years after mouth trauma. Our patient had been hit by a ball many years before, damaging the upper jaw. That meant that treatment would have to be very delicate. 
The patient had flared upper front teeth, meaning they were angled outward. It made them difficult to protect with mouthguards, which isn't good for an active youngster. We fitted the patient with Phase I braces for nine months, gently moving the teeth back into their proper angle and position. That reduced the risk of trauma in the future. 
The Phase 1 treatment means we may return later, once the mouth is fully developed and healed, and correct any remaining dental issues, if necessary. In the meantime, our patients can enjoy an active lifestyle with a beautiful, healthy smile!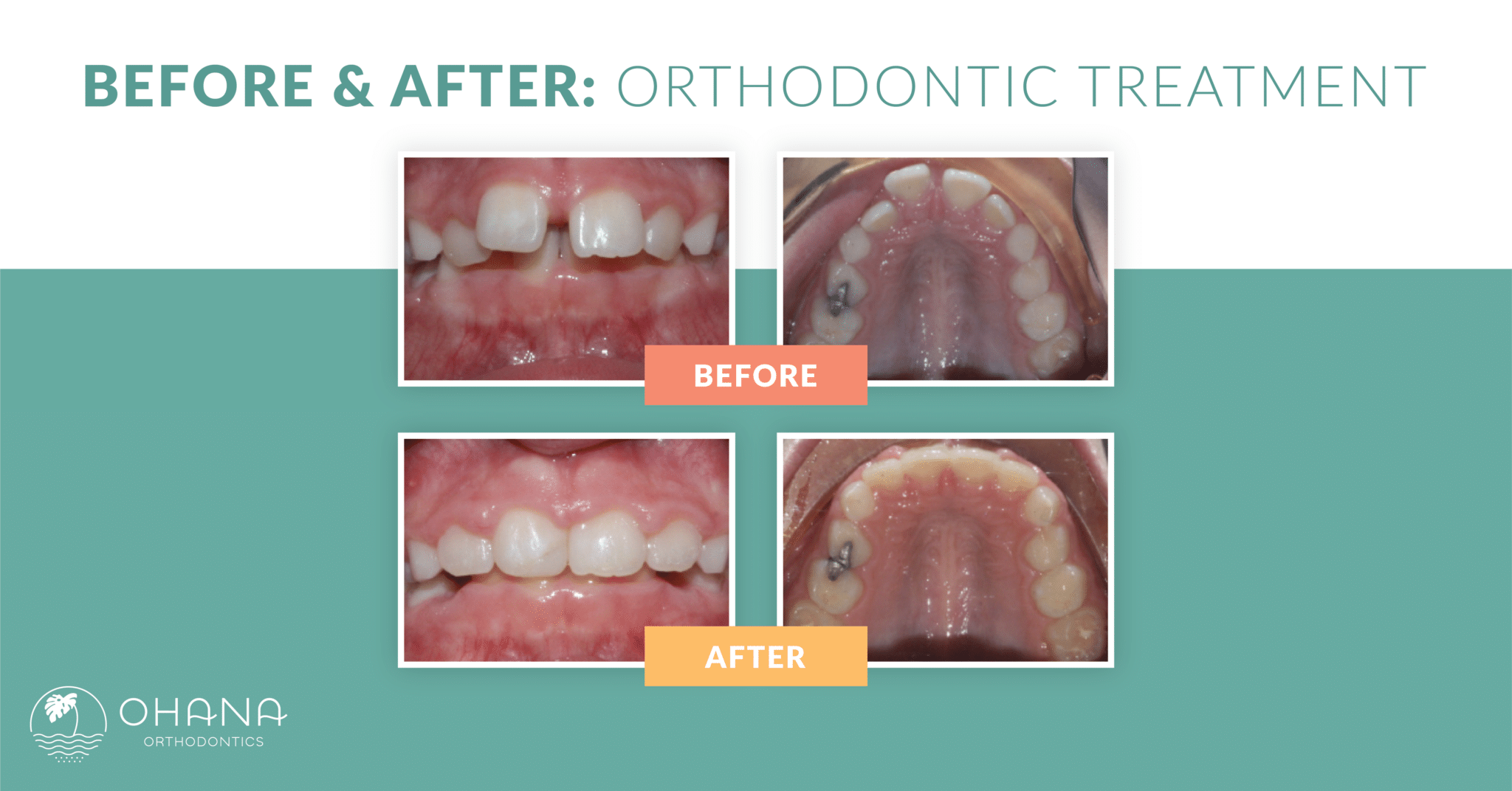 Patient 5: Crossbite on the Back Teeth
Patient 5 came to us with a crossbite on the back teeth (molars). Like normal, a crossbite is where the upper back teeth sit just inside the lower back teeth instead of vice versa. Crossbites can lead to jaw fatigue and pain, headaches, and neck aches, among other issues. 
Our patient needed their crossbite corrected. They had a narrow U-arch on their upper teeth. This refers to the U-shape in which your teeth are aligned from front to back. In this case, the back teeth were closer together than they should have been. 
We placed the patient in braces for 28 months to pull the teeth back into place and correct the crossbite. The result was a better bite, which meant better biting and chewing and less jaw pain and fatigue. Our patient could eat — and smile — with new confidence.
Braces Treatment in Canby, OR
Braces can correct many dental issues. The difference in teeth before and after braces isn't just seen — it can be felt. Braces can correct much more than the look of your teeth. If you're ready to see what braces of Invisalign can do for you, schedule your free consultation in Canby, OR, or the surrounding areas. You'll be amazed at the smile transformation you'll get from braces!